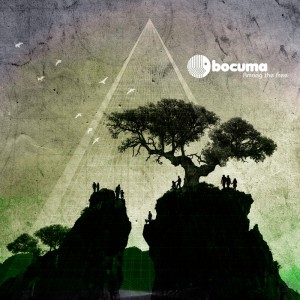 This next installment in our music reviewing adventures comes in the form of the electronica albums Summer Pylon and Among The Free by Bocuma. Rather than do the usual thing and talk about each track or album individually, we'll examine Bocuma's production style and the type of sound he consistently puts out.
I'll be honest, the first thing that really jumped out at me is the awesome cover art Bocuma chooses for his albums. I'm not certain from where this art comes, but call me jealous. I've always been attuned to the mix between the visual and the auditory – the imagery presented by the music, supplemented by the artwork. A good album cover and put my mind in a certain mood, and let me know what to expect. Sometimes I'm way off, but sometimes I'm spot on. With Bocuma, I definitely felt like the imagery sets up the mood for some deep, layered, mysterious music.
Bocuma's style is very analog, which is constantly being brought back by the likes of Daft Punk. In the past, I may have overlooked the artistic value of using analog sounds and tools, because that's not what mainstream electronic music is like, and it's not important – I'd argue – at a club. However, over time, I've found that analog music gives electronic music a mature sound, as if trying to proclaim that analog musicians are "real" musicians. There is certainly some divide on what many in the industry construe as true musicianship and whether creating music with the click of a mouse is the same as tweaking knobs and pressing keys with fingers that big of a difference. But, I digress. The albums have a significant influence of 70's analog vibes, as Bocuma describes his own music.
What Bocuma's music does well is present an interesting, relaxing ambient experience, but with enough punch and variation to keep me from falling asleep. Most, if not all, of the tracks are fairly complex in their use of fx and layering, to present a full package of music. The final mix could be cleaner, because it often does really sound as though this was mixed down in the 70's, without the modern, crisp feel, from which I think Bocuma's music could benefit greatly. Melodically, I found the deep, melancholy vibes an interesting voyage. Lots of changes and variations made for an interesting listening experience.
Whether you enjoy this type of music is irrelevant, when looking at it from an objective point of view. The productions have a signature underground feel, and it's clear that a lot of thought went into creating these personal soundscapes. Each piece carries a message created by Bocuma, capturing a piece of him and sharing it with the world.
Check out Bocuma on:
Bandcamp – http://bocuma.bandcamp.com/
Soundcloud – https://soundcloud.com/boc_uma
Facebook – https://www.facebook.com/Bocuma/info
iTunes – https://itunes.apple.com/gb/artist/bocuma/id474850536