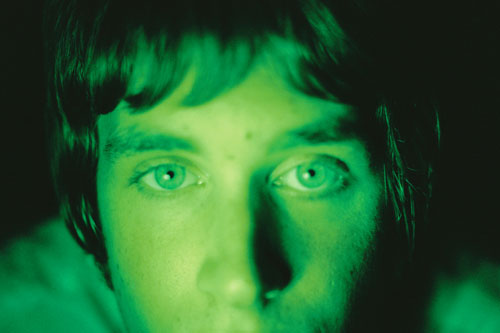 Scott Hunt aka Hunter is an American composer, songwriter, singer and producer – releasing albums for almost two decades. Recently, a friend of Scott's reached out to me, asking me to check out what he felt was an overlooked album, which should be heard. After listening to Crutches, I have to concur.
While Crutches is not an album which I would personally categorize as electronic dance music, per se, it does feature some elements of dance music (namely disco), and does contain some electronica components (lots of analog synths). Whether it is or isn't EDM isn't really what's at stake here. What it is is a brilliantly produced retro-sounding indie, music-nerd-style treat.
The album starts off slow with Never Believe, a filtered intro with some psychedelic backing choral vocals, definitely feeling some strong 60's/70's influence here with the bouncy bassline and flanged vocals, the Beatles style panning.
The album is arranged in a nicely flowing way, with one track seemingly more interesting than the last.
The highlights of the album, to me, are:
the vocals – the vocals shine on this album, and add at least half of the album's appeal, it just wouldn't be the same without them
the panning – Scott's attention to details is very evident by the meticulous and deliberate placement of each little element in its own place on the track
the beats – loved the drum sequences on this album, the timely fills, builds and breaks, the crisp sound of the percussion
the basslines – each track has a unique feel, while keeping to the same theme, driven in large part by the bouncy basslines
All of the tracks on the album are honestly outstanding in their own way, so it's hard to pick favorites, but if pressed, I'd have to say that No More Rider and Three Finger Hands were my top picks.
I can appreciate the effort and love that went into producing this album. I would say it's easily on par with many indie albums on regular radio rotation. The sound is professional, and it begs to be heard.
I could see some interesting remixes coming out of this, if Scott were to release a remix pack for some of the tracks.
At $7, this album is a bargain for anyone who is interested in hearing some original, creative, "good" music. You can grab a copy here on Scott's Bandcamp.