If you were going to criticize Numanity for the lack of diversity throughout his work, the only thing you'd really be acknowledging is his mastery of the music he's obviously most passionate about. Throughout the eight tracks which compromise his latest record, titled "eden.", he has managed to construct an LP which manages to grab your attention without actually doing anything groundbreaking thanks to some phenomenal production.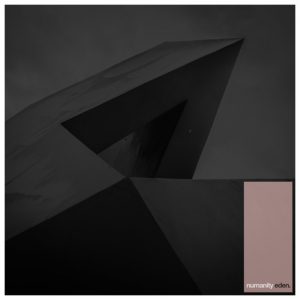 From the first track of eden, you're introduced to the components which will largely make up the rest of the record: a cacophony of organs and strings, abrasive bursts of noise, and distorted drums which sound like they're being chopped up and looped to within an inch of their life.
In fact, the only other two elements which really make a notable appearance are a select few found sounds – some of which have been doused in so much reverb that it's difficult to tell what they actually are, although it's fairly apparent that they're organic in origin – and some nicely placed vocals which start to rear their head towards the end of the LP.
What really impressed me about the album, and the artist himself, is the level of attention and care that's obviously been put into it. Rather than alternating between a selection of loops and song sections, it feels as though each moment has been painstakingly tweaked to perfection. The programming on songs like 'montauk', 'clouds', and 'nivose' is particularly notable, with drum sequences which sound like hip-hop patterns sped up and fed to a distortion pedal.
Nothing is superfluous here, and even though several songs on the album swell and build until they eventually transcend into something else entirely, it never sounds like too much is happening at once. He seems to posses an expert level of intuition when it comes to programming and mixing and, while sounds are brought to your attention without warning at times, it's only when that's the intention of the artist. The rest of the time, elements are carefully blended into and out of the track, and (despite the rough aesthetic) each of them on their own are an absolute joy to listen to.
Throughout all the cold electronic glitchiness, the vast majority of the record – and most notably the tracks 'eunonia', 'cereus', and 'zicatela' – still manage to carry a subtle but powerful emotional energy, while others, like the above mentioned 'montauk', feature daunting strings which will put you slightly on edge.
It's hard to know what exactly is on the cards of Numanity, with his devotion to music which is probably only ever going to be appreciated by those with an acquired taste for a niche music genre, but this latest record could easily form the soundtrack of a David Fincher film. I guess time will tell.
Fans of Autechre's 'Tri Repetae' and 'Amber' era and artists like Venetian Snares are going to love eden. The album can be picked up for five bucks on bandcamp, or – if you're feeling extravegant – you can buy the limited edition, hand-packaged cassette for $10. The cassette comes with a J-card, which will make for a nice souveneir when this guy becomes famous.