TrevorSomething's Girlfriend concisely demonstrates his understanding and expertise of the chillwave genre, while also setting the bar for other undiscovered bedroom producers to aspire to.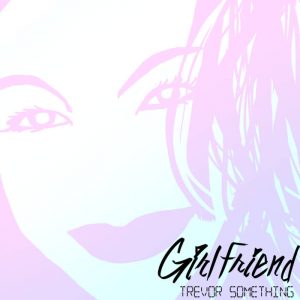 Being an anonymous musician must be difficult; you'd need to make sure that you only discussed your artistic pursuits with the people you trusted most in your life; you'd have to go out and buy an assortment of moderately interesting costumes and/or masks for when you were doing press release photos; and you'd have to let the music do most – or all, as is sometimes the case – of the talking.
Fortunately for TrevorSomething, this has never been an issue. With four full-length LPs under his belt (as well as one EP), he has managed to develop an online following thanks in part to his undeniable intuition for scoring a catchy pop melody and steeping it in the sweet nectar of retro-inspired dream pop. Being an able musician is one thing in today's oversaturated music industry – but being able to back that up with well-executed concepts, as well as a visual component (yes, he also makes his own art, you should totally check it out), and funny music videos is another.
Girlfriend is a single taken from his recently released album, Soulless Computer Boy and the Eternal Render. It starts off with the kind of reverberated drums and arpeggiated bass you might expect to hear from the likes of Com Truise and Neon Indian, and – right off the bat – it's obvious that Trevor has a particularly firm grasp of the production process, from initial writing up to mastering.
The intro also features a catchy hook sequence, which sounds something like synth panflutes and immediately adds some depth to its surroundings; but it's the vocals that set the track apart from other songs which end up falling into the ambiguous vat of chillwave that exists on Soundcloud and YouTube. Well-produced, they can be hard to distinguish at times thanks to their somewhat distorted nature and delay.
That said, even though the vocals are heavily modified, this isn't an attempt to mask a lack of quality or originality; instead, their thoughtful placement and amiable tone allow them to blend with the other instruments to help corroborate the kind of chillwave/shoegaze aesthetic of the track. Everything manages to flow along steadily without any jarring surprises.
Girlfriend is a simple composition, consisting of a shifting array of expertly chosen patterns, and the result is the kind of new-retro perfection that Tumblr kids – and fans of pop music the world over – really do deserve to hear. The fact that the song only has fourteen thousand views on Soundcloud is alarming, and one wonders how many other masterful compositions exist out there in the dark corners of content-sharing sites without enough people listening to them.
This is a highly recommended listen, and be sure to check out both the artist's early windows inspired website (where you can also buy his previously mentioned visual art) and bandcamp page, where his albums can be picked up on a pay-what-you-want basis.