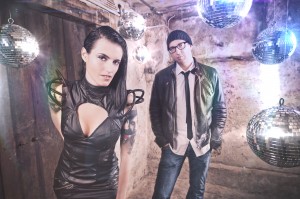 I'll be the first to admit that it's not every day I get to review electro-c*nt-rock, in fact I've never even heard of it before. But, what the hell, I'll give it a shot. This next adventure in music comes to us from the Denmark-based duo Junksista. Junksista is one part Boogu (producer) and Diana (vocalist).
"I'm naked. I'm wet. I'm hot. I'll do ya, right here… oh yes, I am a slut." This is just a small sample of the hypersexualized vocals you can expect to hear on this album. The vocals are complimented by a bouncy electro-pop beat with a smathering of effects, guitar riffs, and four on the floor beat. No mindblowing builds, breaks or transitions here, just raunchy vocals with heavy effecting and older-style electronic production.
The whole thing is very reminiscent of Cherry Bikini who also happen to be a duo, who I happened to "follow" back in the day on some random, long-vanished music social network. Much like Cherry Bikini, Junksista's production relies heavily on the appeal of dirty, edgy female vocals. The type of setting in which I picture this music being played is a dimly lit Hollywood Hills pool party with skinny supermodels and seedy Hollywood types.
On a personal level, I don't really get it, but that doesn't mean there isn't an audience out there for it. I feel like there is potential for this album to sound better, at least in terms of having a modern sound. This is somewhat accomplished by the many remixes on this album. For as many original tracks as there are, there are thirteen remixes, quite the bang for your buck, if you will – and a few extra mixes.
The only remix which really stood out I felt was the Pernau mix of Naked Wet Hot, which had a distinct atmosphere, some deep house elements and was mixed pretty well.
All of that said, there is a pretty good chance you'll never hear any of this on your local radio station, but I am not one to tear down underground music. What this album is, is distincitvely anti-mainstream, anti-norm. Some of the productions are akin to something Lady Gaga might try to force some poor mainstream producer to pump out. Clearly, a lot of work went into producing this album and certainly nothing about it is lazy. There is definitely an audience for this type of music out there and I am sure they will be delighted to hear this release.
Links to buy the album:
http://www.junksista.de/cd-shop
https://itunes.apple.com/us/album/bad-case-of-fabulous/id735147514
http://www.amazon.de/Bad-Case-Fabulous-Explicit-Junksista/dp/B00GBLCVBS
Links to social media pages:
www.junksista.de
www.facebook.com/junksista
www.youtube.com/junksista
www.twitter.com/junksista