I'll start off with the good news and the bad news. The good news is, this is quite possibly the single best documentary / tutorial DVD available for emerging DJs and producers. The bad news is, it's is damn near impossible to get a copy.
I was lucky enough to grab a brand new copy on Amazon back in 2005, for a fairly reasonable $20 or so. At this point, there is one copy for sale, and it's going for almost $100! (I am not the one selling a copy, nor will I ever part with mine.) Never did I think that a DVD can wind up being a financial investment, but I digress…
Since I never have been, and probably never will be, a DJ, I was kind of skeptical of purchasing this at first. But, the extremely impressive list of interviewees got me. I really don't think there is a single other production out there which features as many big, classic names as this feature does. I mean, just look at the line-up: Paul Van Dyk, Timo Maas, Juan Atkins, Deep Dish, Orbital, Miguel Migs, Steve Lawler – just to name a few (and some which aren't even listed, like Colette). As far as EDM goes, these are household names.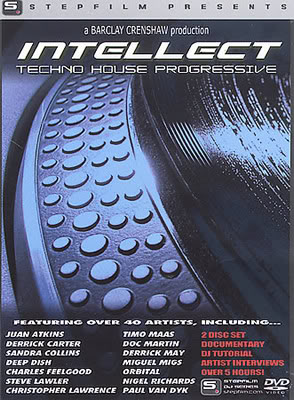 Everything about this DVD kicks ass. It's a 2 disc set ([1] description from Amazon):
"Disc One includes a 30-minute inspirational documentary about the 'art of the DJ' and 'what it takes to make it' featuring interviews with over 40 of the world's greatest DJ talent including Paul Van Dyk, Deep Dish, Timo Maas, Orbital, Steve Lawler, Derrick May, Sandra Collins, Hybrid, Doc Martin, Ming & FS, and many, many more! This disc also allows the viewer to pick and choose from 34 of the full individual artist interviews to view and experience."[1] No matter if you are a DJ, producer or staunch clubber, you will find some very good inspirational advice, hilarious anecdotes and some downright trippy stories here. I have watched this disc over and over, probably ten times or more, and every single time I walk away motivated to create, to push the limits and to keep working on music.
"Disc Two features the very first tutorial to ever focus on techno, house, and progressive DJ's. Nigel Richards of 611 Records takes the viewer step-by-step through every level of DJ'ing – from the most basic equipment setup all the way to advanced mixing on three turntables. Also included are 8 bonus topics focusing on specific aspects of DJ'ing and producing dance music featuring tips of the trade by artists featured on Intellect. "[1] This part of the documentary is as informative as it is oftentimes hilarious! Even if you don't DJ, but are a producer, this is absolutely a must-see. You will see what DJs are looking for, in terms of beat structure, and learn how to create tracks which are easier for DJs to mix.
I noticed that the film is directed and produced by Barclay Crenshaw. In doing some background research, I found that Mr. Crenshaw had worked on such films as Con Air, Batman & Robin and The Truman Show prior to creating this documentary. (Is Barclay Crenshaw the same person as Claude VonStroke? No way to tell for sure, but it certainly would make sense.)
The whole DVD is done very professionally, and really sets a standard which any future documentary and tutorial feature should follow. Never before, and not since, has there been an electronic [dance] music expose like this. As I said, unfortunately this is a very hard DVD to find, but – if you can get your hands on it – you will not regret it in the least.